How an agricultural shade net is essential for farming?
Farmers are becoming hi-tech these days. In order to scale their earnings and produce, they are exploring new ways, techniques, and processes. Over the years, many innovative products have emerged in the agriculture domain that has become blessings in disguise for hundreds of farmers, including commercial farmers. In this important blog, we are going to focus on one such innovative product, the greenhouse net for commercial farming.
Before we take a deep dive into the subject, let's understand the term in simple language.
What is an agriculture shade net?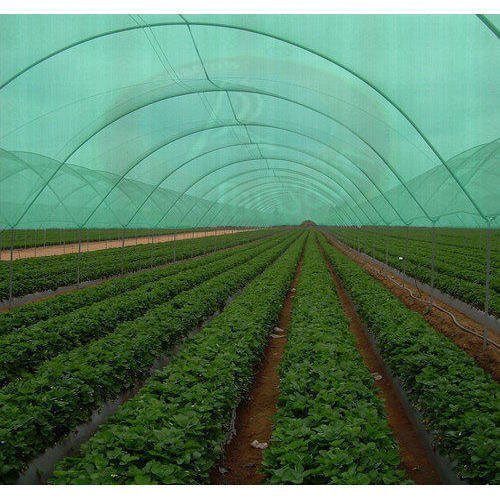 Many of you might have come across a green shade net while exploring a farm or a horticulture garden in your village. So what's this all about? An agriculture greenhouse net is an outdoor structure made up of HDPE.
Material of the net
The latest agriculture shade net is derived from the sturdy 100% virgin HDPE material. It is a thermoplastic polymer, a derivative of petroleum.
Salient features and properties of the agriculture greenhouse net
The net is made up of 100% virgin HDPE. Furthermore, to lend colour and some exceptional properties, it is treated with colour masterbatches and UV stabilizers (Ultra-violet).
All-weather resistant
High tensile strength
Durable
Sturdy
Lightweight
Resistant to harmful UV
Resistant to thermal Rays
Anti-evaporation
Salient features
This is a known fact, unless a product offers salient features for users, it will hold no or little value for the user. Here are the salient features of the net which are transforming the farming sector:
Protection of plants, saplings, flowers, and crops from direct exposure to excessive sunlight
Easy to install and maintain
Reduces evaporation
Provides resistance to heavy rains and hailstorms
Provides uniform shade for better yields of crops
Protects crops from insects and birds
Applications
The shade net is useful in many different ways these days. Here are the applications of the shade net:
Domestic - gardens
Greenhouses - commercial horticulture
Sports arena - play-ground fencing
Agriculture industries
Water park shedding & fencing
Swimming pool fencing
Restaurant and resort shading
Poultry farming
Building constructions sites
Classification of nets
These nets have been classified into various types, depending on the amount of sunlight that passes through these nets. Here are a few common types:
50% Shade Nets
75% Shade Nets
90% Shade Net
Colours
The nets are available in many colours. The most common colours used by farmers and horticulturists include:
Customized colours
There are a few companies in India that offer customization of the product. Gopinath Enterprise, a leading company holds expertise in offering customized colours and dimensions. A team of expert engineers and technicians look into your farming or commercial requirements. Based on dialogue and interactions with you, their team will come up with customized designs.
Join hands with Gopinath
Established in 1998, the Gopinath Enterprises Pvt. Ltd. is a prominent manufacturer and supplier of quality-driven HDPE Waterproof Tarpaulin fabric. Blending innovation and technology, we deliver business-centric HDPE Tarpaulin Roll, HDPE Tarpaulin, HDPE Pond Liner, HDPE Vermi Bed, HDPE Azolla Bed, HDPE Shade Net, Multilayer Tarpaulin, and Cross Laminated Tarpaulin.
If you are looking for a quality-driven range of agriculture shade nets, then end your search with Gopinath Enterprise as they hold immense expertise in the field. It's worth investing in the product as it will help you scale your business to the next level.