Multiple benefits of tarpaulin for different types of industries
Many of us have heard about this product, tarpaulin. We have little idea about its multiple benefits, and how HDPE tarpaulin is changing the face of many industries. In this blog, we are going to discuss tarpaulin and its impact on various industries.
Moving forward, learn about the product in simple language, helping the readers to relate to the blog.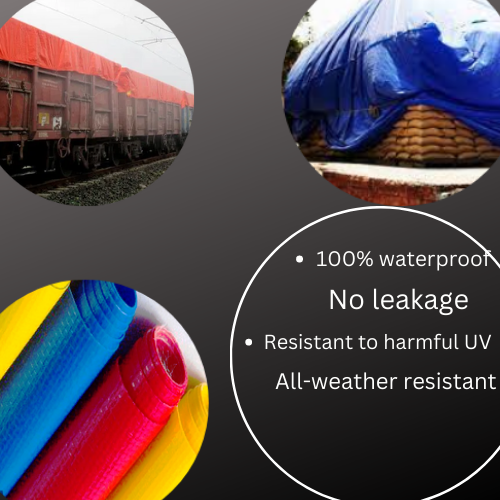 What is a tarpaulin
Tarpaulin is a kind of fabric with excellent features and properties. A wide range of materials is being used to weave fabric for tarpaulin. HDPE-made fabric has assumed significance as HDPE's salient features make the tarpaulin an ideal product for a wide range of applications. HDPE Tarpaulin manufacturers in India are manufacturing a wide range of tarpaulins for various types of applications. Here it makes sense to share the full form of HDPE, the base material to weave and produce different types of industrial tarpaulins, including multilayer tarpaulin.
HDPE stands for High-Density Poly Ethylene. How to manufacture HDPE? HDPE is basically a polymer; it is one of the derivatives of petroleum. A scientifically designed catalytic process has been used to manufacture HDPE.
Unique features of the HDPE tarpaulin
HDPE tarpaulin manufactured by leading tarpaulin manufacturers in India is widely known for demonstrating numerous salient features, making it ideal for industrial applications. In this section, we are going to highlight some of the unique features of the product:
100% waterproof
No leakage
Resistant to harmful UV
All-weather resistant
High tensile strength
Resistant to thermal Rays
Durable
Sturdy
Lightweight
Anti-evaporation
These features the product stand out from the crowd, whether it is multilayer tarpaulin or cross-laminated tarpaulin, it brings forth excellent qualities, making it an amazing product for various types of industrial applications. In this regard, you can connect with a few famous tarpaulin manufacturers in India.
Applications
From the salient features, let's now move toward the applications of the incredible product.
A slip-n-slide is one of the fun ways to use a tarp
Certain poly tarps make great waterproof bags
Build a kid's fort with tarps
Line the bed of a pick-up truck for a portable hot tub
Tenting application during the ceremony – wedding, cultural show, etc.
Mesh tarps can be used as a windbreaker
Privacy dividers are a great use for tarpaulins
Make a shower or restroom area
Animal sheltering
Water reservoir
Campfire
Cover for work activities
Complete roof covering during construction
Boat & yacht cover
Canopy tent side walls
Covering machinery during transportation
This list is endless!
Industries drawing benefits from the product
Considering the applications of the product, it has found usage in plenty of industries. These include agriculture, manufacturing, engineering, plastic, sports, entertainment, transportation, railway, and many more.
Custom-designed products
A few HDPE tarpaulin manufacturers in India hold the expertise to deliver custom-designed tarpaulins. If you are looking for a specific size, color, and width, you can connect with a few leading custom-designed product manufacturers and suppliers.
Conclusion
Next time when you visit some famous tarpaulin manufacturers in India, imagine about the applications and features of the product. Don't forget to raise your query, if any. Never settle for less. An inferior quality will harm your product.